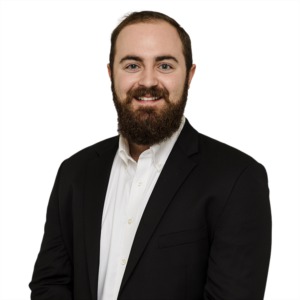 Hi! My name is Zack Slover, and my lifelong goal is to help people create lasting relationships centered around service, community, and Jesus Christ.

I have lived in the Central Valley all my life, and I have really grown to appreciate all it has to offer. I went to Live Oak middle school and then attended Tulare Union high school. I enjoyed a high school experience filled with baseball, basketball, and football. I also excelled in school, I graduated with a 4.22 GPA.

After high school I felt called by the Lord to attend FPU. Little did I know this year at FPU would be a pit stop to find my lovely wife Rachel, move on to the school I would end up graduating from. Rachel and I have been married for about three years now and I couldn't imagine my life without her! We are expecting a beautiful baby boy we are naming Luca here in January. We have two beautiful dogs named Emmy and Bea girl. I love my family and am very grateful the Lord has blessed me with them. Now back to haw I ended up on the Shawn Team!

 I came back to Visalia and attended a small bible college and graduate with my bachelor's degree in church leadership with a minor in business administration. I then worked at Visalia First where I served as the youth pastor and the SAGU college Director. This was the same school I had graduated from just a few years before. After my season at Visalia First I felt a stirring in my heart to move on to something else the Lord had in store for me.

I then met Blake Shawn and Jacob Fraga, little did I know that these two men would change my outlook on life forever. We quickly became brothers, and then partners and started a business in the middle of the pandemic, where we have seen God move in marvelous ways! Our community is coming back to life! I ended up getting my real estate license and joined the Shawn team back in February.

I have quickly fallen in love with the opportunity to serve people through real estate. I like helping people through the process of one of the biggest purchases of their lives because it allows me to be honest and vulnerable with other people, something I don't think we do enough of in the world we live in today. For me, real estate isn't just about the next transaction, but about the next relationship I get to make. I can't wait to connect and help you find your next home, or maybe your next life-giving relationship!